About The Show
For many of us golf can be a difficult game at the best of times. But just imagine the added difficulty if your seven iron – instead of having a standard head – has a smoothing iron, yes a genuine domestic smoothing iron at the end of the shaft! Yet that is exactly what Dean's "iron" has. And that's only one of the incredible clubs in his bag. Take the "hose-pipe" club for instance: three feet of flexible rubber garden hose with a normal club head on one end. Not a problem to Dean as he hits a fine shot down the fairway. He may even invite you to have a go and see if you can defy the normal laws of physics by making contact with the ball. Go on, have a go – it looks so easy in Dean's hands. Or what about a club almost six feet long, or one with a hammer on the end of the shaft? Alternatively try hitting a ball while bouncing on a mini trampoline. All these tricks are in Dean's amazing repertoire.
Whether you would like to entertain clients on a company day, add some spice to a club event like Captain's Day, or simply enjoy the experience for yourself, The Dean Davis Trick Shot Show is an experience not to be missed. The saying "Everything but the kitchen sink" is certainly true when looking into Dean's bag of tricks. Dean will entertain you and your guests with a fabulous display of golfing skills. He has been doing his unique show for over 20 years in a number of different countries around the world and spectators go home with an experience never to be forgotten.
The Dean Davis Golf Show is the perfect way to wow your guests at any event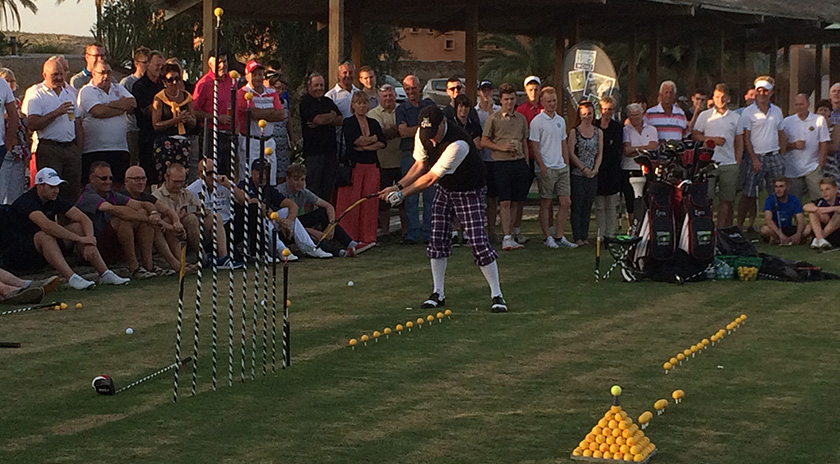 We can attend all types of events, they don't have to be just golf related!
Corporate Entertainment Events
Corporate Golf Days
Club Open Days
Anniversary Events
Birthday Parties
Weddings
Charity & Society Golf Days
Equipment Demo Days
TV & Film Events
Tour Events
Captain's Days
Junior Golf Events
BBQ social night at the Golf Club
Dean performs a 40 minute show which includes audience participation.
The show is a great way to entertain guests at your event!
Do you have an event you need help with?
For bookings please call 01235 522 677
Ambassador Roles